The NVS365 M-PEG Video Server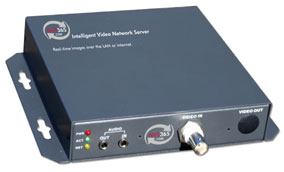 Connect any CCTV camera to a network or the Internet to see live pictures remotely on a computer using the client software...
Features

Colour & B&W Inputs
Live Video & Audio
Built In Motion Detect
Connect Using Internet Explorer
LAN or Internet
Auto E-mails on Alarm Detection
The NVS365 allows you to conver an analogue CCTV camera into an IP camera and using the client software provided you may view or record it. This means you can carry on using your favourite low light camera or your favourite PTZ.
Why not visit the NVS365 website...