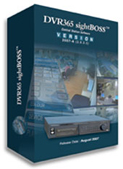 DVR365 Client Software for Windows
The DVR365 is a superb DVR. It is very easy to connect to a local area network so that PCs on the network can access live and recorded images directly from the DVR itself.
SightBossTM Client Software.

SightBossTM is the client software for the DVR365 allowing you to view and control multiple cameras and manage users remotely over a network or internet connection.
SightBossTM come free when bought with the DVR365. For more information visit the SightBoss website.
Stand-alone PC player software.

This special software has been developed so that a video file/clip can be taken from the DVR and put onto a CD or similar so it can then be played back on a stand-alone PC elsewhere.
The video files produced by the DVR are a modified mpeg compression and are specially encrypted so normal mpeg software cannot read or access them. To play the video on a standalone PC, you must have this software. This is the software that would be used to playback video footage in a court or similar environment. Alternatively you may use this software to view your footage at home.
If you are looking for to download the player, try the support pages.